Distracted driving brings with it a heavy cost. Distracted drivers are significantly more likely to be involved in accidents, which can quickly rack up high levels of property damage, personal injuries, and more. The average amount of property damage alone in an auto accident totals $7,500. When you add in permanent injuries and deaths, the financial toll rises quickly, often totaling in the millions of dollars. When you have a fleet full of drivers, however, who is responsible for stopping distracted driving?
The Problem with Leaving Distracted Driving in the Hands of Drivers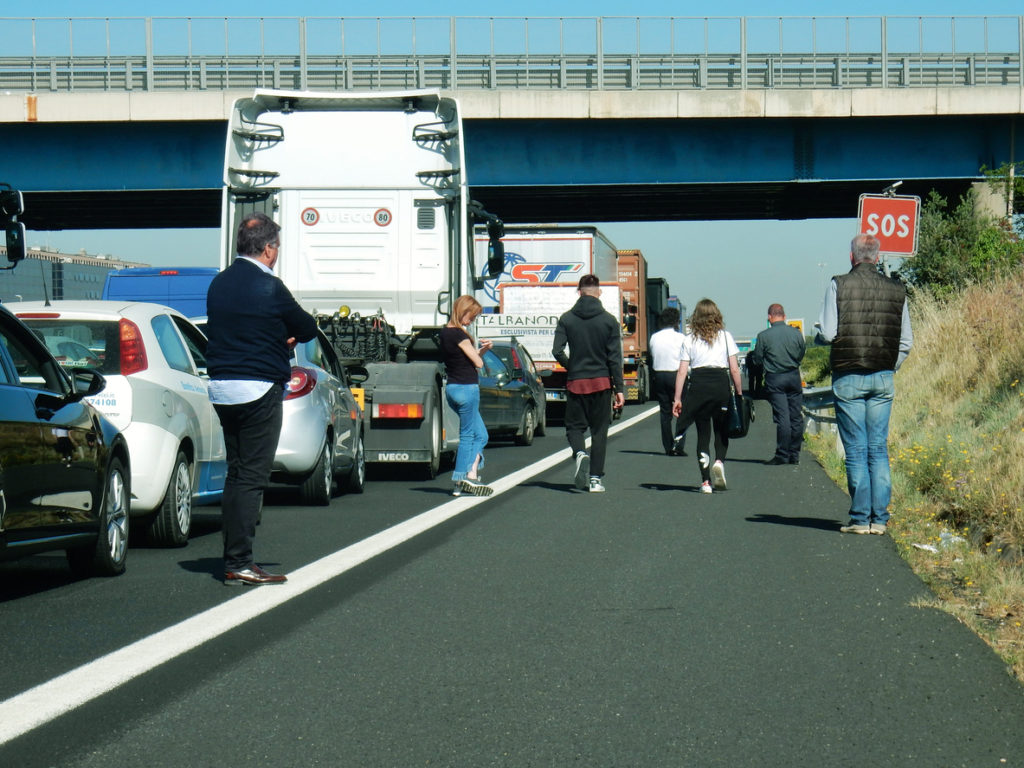 It would be nice if your drivers would decide for themselves that when they're driving, their attention needs to be on the road. Unfortunately, this is rarely the case. 71% of trucking accidents occur when the driver is doing something besides driving behind the wheel – and yet more than 88% of drivers still use their cell phones when they're behind the wheel. This includes texting, driving, and using apps, many of which can lead to distractions behind the wheel.
There are a wide number of reasons why many drivers remain distracted behind the wheel. This might include:
Long hours behind the wheel, which can cause a sense of monotony and boredom.
Excessive time driving can lead to increased confidence beyond the driver's actual capability.
Drivers believe that they will only be distracted "for a second." Remember, a car can travel the length of a football field in just five seconds – which means that glancing down at a phone is more than enough time for an accident to occur.
Long stretches of time behind the wheel can make it seem more urgent to "just glance" at a cell phone to check on that message.
Left to their own devices, drivers, who have little supervision when they're actually out on the road, are more likely to decide to continue distracted driving habits, even knowing that they could be unsafe. Over time, especially as they're able to drive without accident, drivers may begin to feel that they're perfectly capable of taking on a distraction or two while they're driving. Unfortunately, even talking on a cell phone can reduce the brain activity associated with driving by as much as 37%. Many drivers, failing to realize the risks, will choose to engage in these unsafe behaviors when they're behind the wheel. Unfortunately, this could leave your company at significant financial risk as well as risking the lives of your drivers and others on the road.
The Top-Down Approach
When you have drivers out on the road on a regular basis, it's important to take a top-down approach to reducing distracted driving. When you use Ready Fleet, you're able to more effectively monitor your drivers, allowing you to assess their behaviors behind the wheel and identify any potentially unsafe behaviors before they become a more serious problem. As an owner or fleet manager, you want to be sure that your drivers are as safe as possible.
Create a solid policy to govern your drivers' behavior behind the wheel. With this policy, you can determine:
How fast your drivers are allowed to drive.
How many hours at a time drivers are allowed to spend behind the wheel. (Note: drivers who have spent too much time behind the wheel are more likely to be fatigued or to give in to distraction.)
What behaviors are permissible behind the wheel. You can choose, for example, to limit distracted driving behaviors or to pay close attention to what drivers are doing.
Make sure that your policy is clear and has been clearly defined to all of your drivers. The better your drivers understand your policies, the more likely they are to define them.
Start by monitoring behaviors. Take a look at how your drivers are really driving. Are they often distracted behind the wheel? Do drivers often drive for too many hours, drive above the speed limit, or engage in other unsafe driving behaviors? If you already have a fleet of responsible, capable drivers, you may find that you need less supervision than you would need for drivers who are more likely to behave irresponsibly. You should monitor your drivers regularly so that you know where they are and are able to keep up to date on their driving behaviors, but you can also choose to have alerts sent directly to you when they engage in specific behaviors – for example, if they travel outside the area they're supposed to be in or if erratic driving behavior is noted by the app.
Craft your consequences. What consequences are there for driving behaviors outside the ones defined by your policy? If a driver is involved in an accident and found to be at fault, are there more serious consequences? Potential consequences may include fines, suspension from work for a period of time, or even job loss. Carefully consider how you want to handle consequences with the drivers in your fleet.
Educate your drivers. Make sure that drivers are familiar with the potential consequences for distracted driving – both those issued by your company and those that are a natural consequence of distracted driving behavior. The more your drivers know, the more likely they are to make safe driving decisions.
Make sure you enforce your rules. It's easy to decide that you're going to let poor behavior slide "just one time," especially if you're struggling to keep drivers. If you truly want safe drivers, however, it's important that you actually enforce your rules, your policies, and your consequences. Without enforcement, your policies are worth little, and your drivers are still left to make decisions about distracted driving on their own. Enforcing those policies from the top down, on the other hand, lets your drivers know that you're serious.
Are you ready to enforce safer driving behaviors for your fleet? Ready Fleet can help you monitor drivers, track behavior, and send notifications when inappropriate driving behavior occurs. It's time to keep your drivers and the others on the road with them safer. Contact us today to learn more about how we can help.