Your Roadmap for Improved Fleet Management
Every day we hear from customers the opportunities they see to improve their fleet management. The changing landscape related to driver availability, training, and risk management is top of mind too.
We listened!
Ready Wireless is excited to bring you these fresh, innovative enhancements to the Ready Fleet solution.
Below we highlight a few of the questions our customers asked and the upgrades that solve their problems.
---
The Questions:
How do I protect my company from the risks of distracted driving?

How do I communicate our safe driver policy and audit compliance?
The Answer: Safe Driver Policy Compliance
Each driver is presented with your Safe Driver and Distracted Driving policy. Use our templates to get started!
Each driver reviews the policy and acknowledges your expected safe driving behaviors when behind the wheel.
The driver acceptance is stored for reference and audit at any time.
Safe Driver Reports provide monthly feedback to help you communicate performance against safe driving behaviors.
Drivers receive real-time feedback on their personal driving behavior
Create standard text templates to be sent automatically when specific notifications occur. This can be used a healthy reminder if drivers practice unsafe behavior.
The Questions:
Help me build a safe driving culture in my organization.

What can I do to engage our team in improving driver safety?

What are industry best practices to identify risky behavior and incent improvement?
The Answer: Safe Driver Leaderboard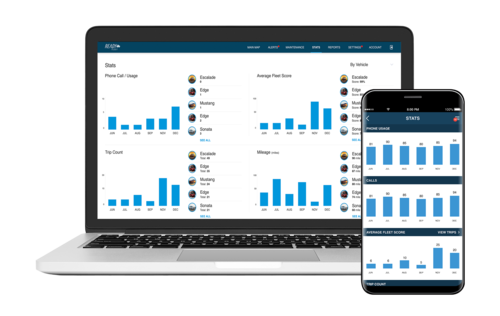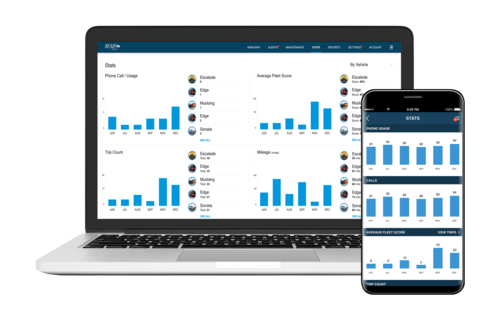 Safe Driver Leaderboard ranks drivers by their safety scores and shows them how they stack up against their peers.
Communicate your priorities and provide regular statistical reporting on actual vs. goal. (i.e. No Texting While Driving, Days Without Accident)
Identify and reward top performers motivating users to increase their score, reach the number one spot, and earn bragging rights.
Create healthy competition and motivate drivers to earn the top spot resulting in safer and more engaged drivers which boosts fleet performance.
Intervene with risky drivers and set performance improvement plans to reduce your costs and risks.
The Questions:
Help me optimize our customer responsiveness and schedule management.

Who is closest to answer an emergency call?

I need a tool at a jobsite. Who can get it there quickly?

When I need someone to change their schedule help me optimize making the change.

We made a scheduling mistake. How do I best correct it?
The Answer: Route Management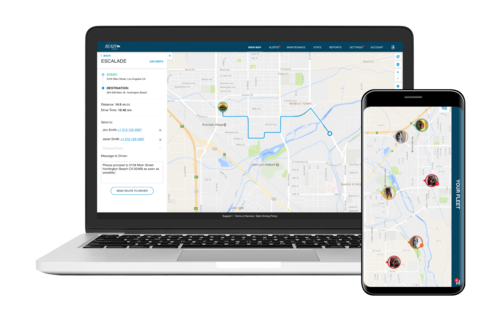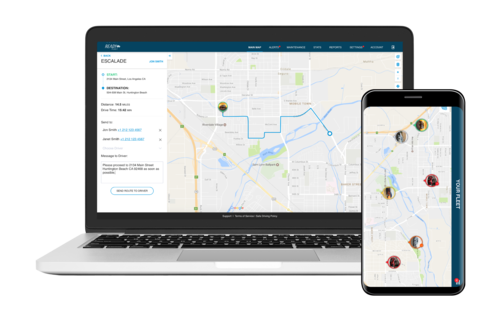 Pinpoint the route location and determine which vehicle is closest.
Send re-route direction to the driver (Not when they are driving of course!!)
Optimize fuels costs and time spent on the road with route optimization.
The Questions:
How do I better protect my vehicle assets?

How do I minimize vehicle down time?
The Answer: Alert Notifications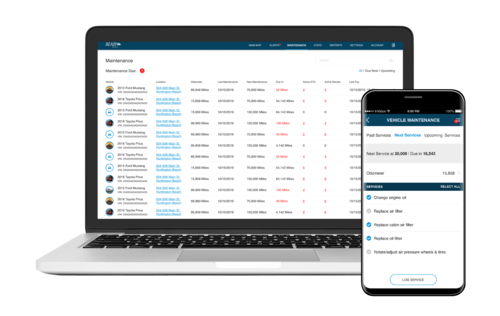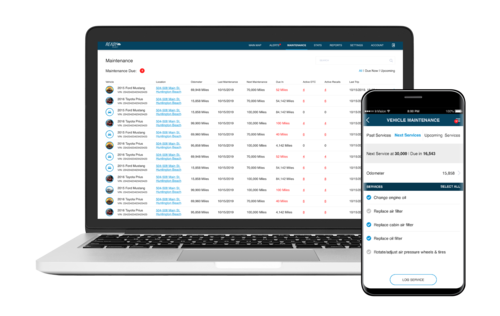 Enhanced alerts let you establish a maintenance program specific to your vehicles.
Track maintenance, battery health, engine temperature alerts, fuel levels and other DTC codes.
Avoid emergency maintenance by catching maintenance issues early.
Text alerts to individuals inside or outside of Ready Fleet to keep mechanics and others in the loop about upcoming maintenance needs.
The Questions:
We need a more effective maintenance program to improve vehicle utilization and reduce cost.

How do I avoid emergency vehicle repairs?

What is the best way to avoid work interruptions when maintenance needs scheduled?
The Answer: Safeguard Maintenance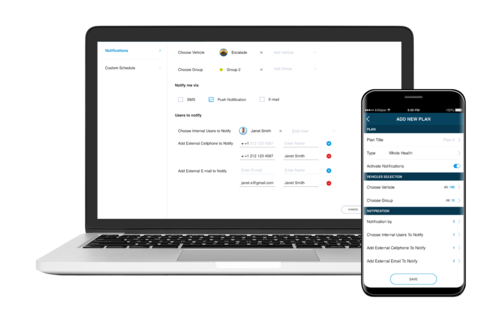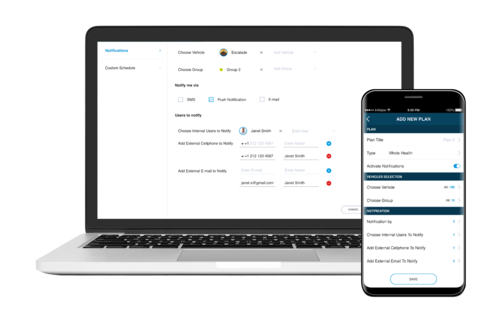 Establish maintenance thresholds for each vehicle.
Proactively communicate with driver, managers and schedulers to plan maintenance.
Track actual maintenance against plan for compliance reporting.
Set thresholds on upcoming maintenance so you can be proactive vs reactive when maintenance on your vehicles is approaching. Ready Fleet allows you to send a text message to users outside of the platform so they can be notified of impending maintenance on your vehicles. You no longer have to rely on your drivers getting the oil changed in their vehicle.
The Questions:
It's important that all my team members can benefit from the Ready Fleet tool.

How can I make this as easy as possible to use for my accounting, safety, maintenance, and scheduling teams to get started using?

We don't have a full time fleet manager so this has to be easy to install and use.

I need to have control over who sees what information and who can control processes.
The Answer: Ready Fleet User Portal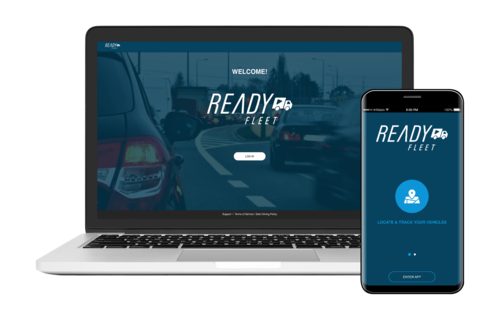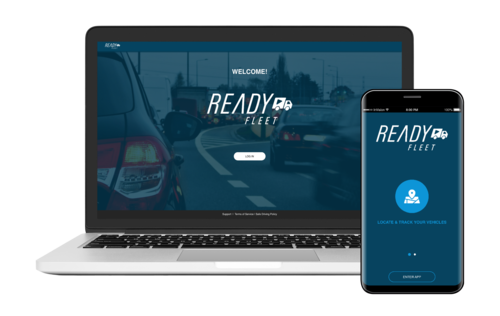 Intuitive, clean interface and process makes it easy to navigate and operate quickly.
Cascading data views let you see summaries or take a deep dive into details…. your choice.
The Question:
I need to have control over who sees what information and who can control processes.
The Answer: User Access Controls
Flexibly establish the right level of system access for each team member/ group.
Limit user visibility to specific functionality, vehicles or groups of vehicles.
Vehicle "driver" type users can be setup to only see their own driving as well.
The Question:
It's important that all my team members can benefit from the Ready Fleet tool.

How can I make this as easy as possible to use for my accounting, safety, maintenance, and scheduling teams to get started using?
The Answer: Enriched Reporting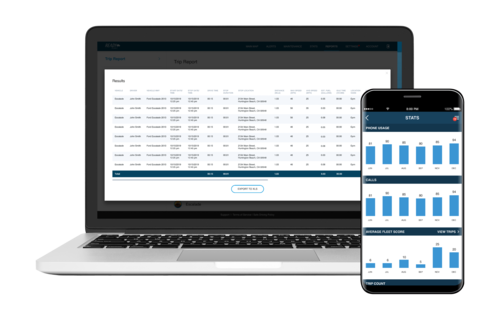 Drill down on detailed metrics and issue reporting specific to maintenance, cost accounting, HR, scheduling, etc.
Reduce cost and optimize efficiency by using data to streamline your operations, decrease fuel consumption and reduce maintenance costs.
With automated reporting on safe driving behaviors, fuel usage, idling, and vehicle efficiency you will be given actionable insights to identify areas of improvement.
The Question:
How can I integrate my own CRM into Ready Fleet?
The Answer: 3rd Party API Integration
Data collected and processed by Ready Fleet is accessible via our extensive API layer in real-time.
Integrating your data into 3rd party systems like fuel card providers, work order management, CRM or your internal system is simplified.