Are your boiler technicians wasting time with manual readings? There's a better way using an IoT sensor. Learn how we solved a major headache for an apartment management company.
Our Client's Problem – Analog Boiler Inspections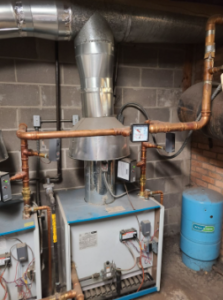 Our client, an apartment management company in the Twin Cities, has a portfolio of 50 multifamily buildings. While each property ranges in size and age, they all use high-pressure boilers for domestic water heating. To maintain safety and performance, every boiler's pressure and temperature must be checked twice a day.
The problem? Because these legacy boilers had no intelligence, each unit had to be manually read. Technicians were traveling twice a day, including on weekends, across 50 sites in a large metro.
The management company was concerned how this time-consuming process was affecting retention. Boiler inspections must be conducted by certified operators – they cannot be done by a typical maintenance employee. Yet these highly trained technicians were forced to spend significant time on a rote task.
Another drawback was that the inspection log was recorded on paper – there wasn't a process to upload readings into Excel or any other tracking tool. This meant that all performance data was trapped in a notepad, with no method to capture and analyze maintenance trends.
Our Solution – A Wireless Pressure Sensor
To erase this logistics headache, Ready Wireless suggested a simple IoT solution – a pressure transmitter with built-in temperature sensor.
The PTD2-L by Ellenex reads pressure for liquids and gas every four hours or at customized intervals. Status data is uploaded to Ready Asset Pro, our sensor management platform. If an abnormal threshold is detected, alarm settings provide instant notification.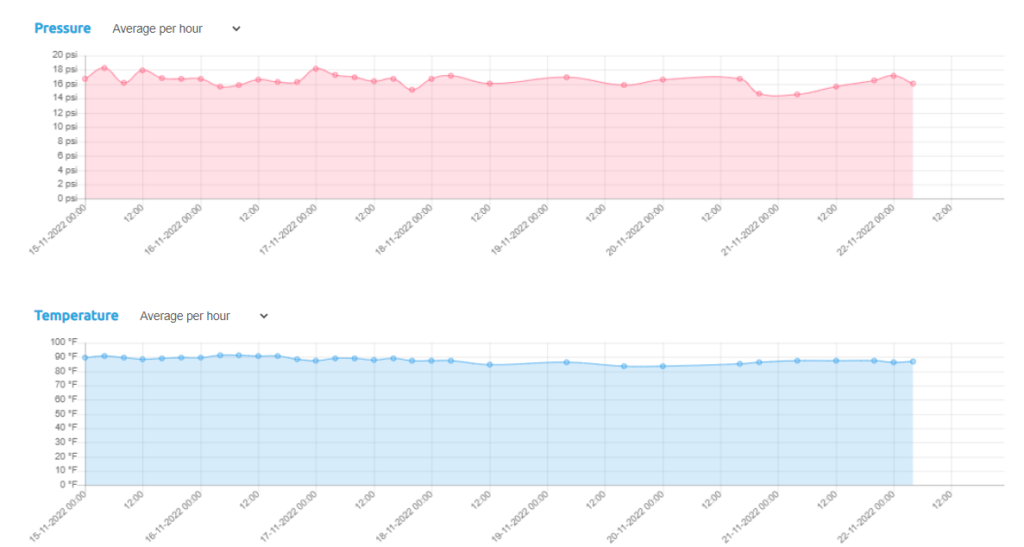 The battery-powered sensor communicates wirelessly over LoRaWAN, which is a long range, wide area network. Its expansive coverage, low power, and scalability are ideal for large commercial properties. Read our LoRaWAN primer to learn more.
This is the first LoRaWAN device our client implemented. They were surprised to learn that setting up a LoRaWAN network doesn't require any expensive technology upgrades. All we had to do was add a LoRa gateway to every property's main office. It's the size of a napkin, plugs into a standard outlet, and is approximately the cost of a standard home router.
"This is a great first step into IoT, especially for companies just beginning to adopt automation," explains Mike Henderson, Partner Solutions Director with Ready Wireless. "Because the LoRaWAN network is scalable, the client is positioned to add more smart devices in the future. Boiler monitoring is only the beginning. They have the foundation to expand into other building intelligence, such as leak detection, waste bin monitoring, and window sensors."
The Benefits of IoT Monitoring
Using an IoT boiler sensor delivers immediate and long-term operational savings.
Improves boiler reliability with automated status readings and real-time notifications
Reduces fuel costs, vehicle wear-and-tear, and labor hours
Allows boiler operators to focus on more complex and urgent tasks
"This LoRaWAN solution also preserves boiler life," adds Henderson. "Technicians can immediately and even proactively respond to issues, stay ahead of malfunctions that could cause catastrophic failures or premature boiler replacement. Ultimately, IoT protects your capital expense budget."

Ready Asset Pro
Ready Asset Pro centralizes all device reporting on an interactive map. Each asset has an associated profile that includes:
The platform is expandable whenever the client adopts more smart devices. As IoT sensors are added to the network, Ready Asset Pro populates with their data. The information can be accessed through a desktop or mobile app, which is perfect for on-the-go professionals.
Ready to talk specifics or have questions?
Please reach out to Ben Muhlenbruch, VP of Marketing and Business Development at ben@readywireless.com or 319.325.4487.