One of the biggest challenges in cold chain logistics is lack of tracking transparency. Basic questions like "where is my product right now?" and "what temperature is it?" have traditionally been impossible to answer. It's not until a shipment reaches its destination and there's a complaint that you know anything is amiss.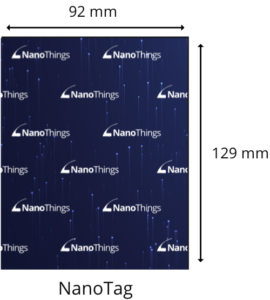 That's all changing thanks to the smart label NanoTags. These wireless sensors track near real-time temperature and location while in transit. NanoTags monitor ambient temperature from -22 to 140 degrees F. (-30 to 60 degrees C.). With a discrete size of a shipping label and thickness of a credit card, they are perfect for any transportation carrier that must maintain the temperature of shipped goods.

NanoTags are ideal for all facets of the cold chain supply using sealed tractor trailers and cargo containers:
Perishable foods
Medications
Vaccines
Chemicals with temperature parameters
Intermodal logistics and multi-leg shipping can also benefit from NanoTags. Imagine having a record that temperature was maintained along a product's journey over ship, rail, and truck.
Wireless coverage is delivered through LoRaWAN, a radio protocol suitable for long ranges (read our primer post for more insights). Gateways via major cellular carriers transmit readings to the cloud. The data is application agnostic so it can be downloaded into any logistics software.
Preserve and Protect Products
NanoTag's end-to-end visibility and traceability protect your company on multiple levels. It provides verification that your shipping conditions adhere to best practices and safety requirements.
NanoTags can even be applied to stationary items in cold storage, warehouses, shipping yards, ports, and walk-in freezers. Automate asset monitoring with no manual interaction. The smart label also senses impacts, falls, and tilts.
NanoTags are incredibly easy to use with a simple activation tab. They are preconfigured for the end user for a truly "stick and go" solution. The airtight housing is water, dirt, and snow resistant. Battery life averages 50,000 transmissions. Storage capacity for temperature readings is 2,000 for the real-time version and 24,000 for the closed loop option.
Automate Temperature Monitoring for The Cold Chain
Do you need to automate temperature readings across your cold chain? Consistent temperatures are essential to guarantee product safety, salvage inventory, and comply with regulations. Ready IoT can't wait to introduce you to solutions that will report temperature on the road and in the warehouse.
Submit your info and we'll follow up ASAP with tailored recommendations!
Get Tailored Recommendations ASAP