Panic button adoption has been a thorny issue. Many on the hospitality scene heaved a collective groan when panic buttons started becoming required under state legislation. Afterall, they were being forced to spend money in the middle of a pandemic when occupancy was down. But a funny thing has happened – the adoption of panic buttons continues to spread nationwide whether it is required by law or not.
Why would a hotel with a limited budget willingly deploy panic buttons? In a nutshell, it's the right thing to do as a corporate citizen. While that's enough for most, hoteliers have also been surprised to learn that there are noticeable financial advantages.
Adopting panic buttons is great for the bottom line!
I wanted to briefly explore the three reasons why implementing panic buttons in hotels makes sound business sense: recruitment, retention, and ROI.
1) Recruitment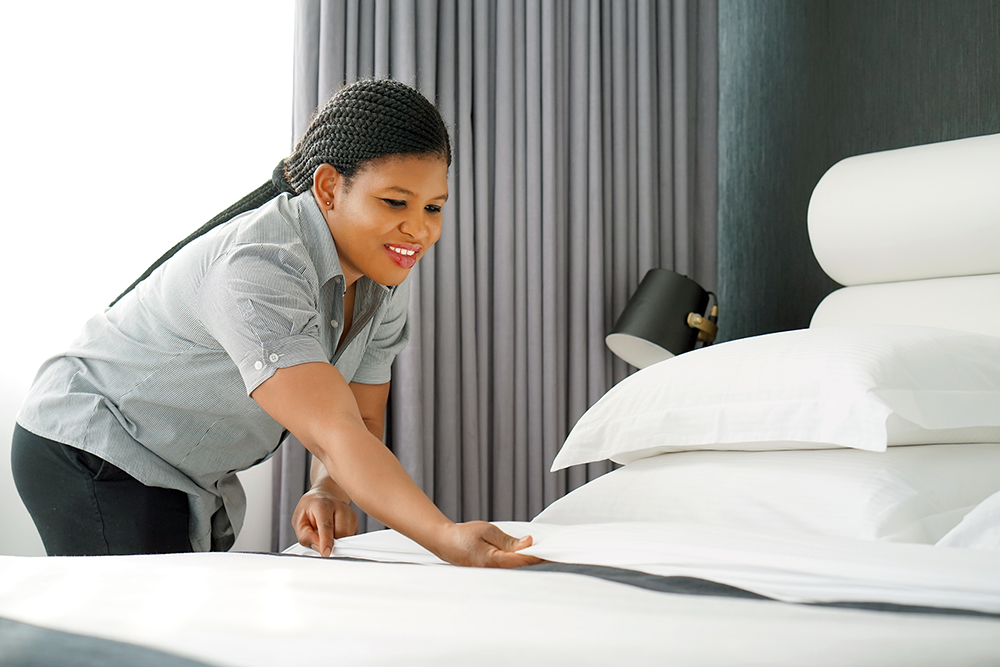 Let's face it – finding good employees on the heels of the pandemic and the resulting Great Resignation is extremely difficult. Customer service jobs have been hit hard. The tourism sector especially took a beating with forced shutdowns and furloughs. Frankly, hotel employment remains a tough sell right now.
One way to differentiate your open positions is to show prospective hires that their health and wellbeing truly matter. Panic buttons demonstrate that your hospitality company is committed to creating a secure and respectful work environment.
Panic buttons are a meaningful form of personal protective equipment (PPE).
2) Retention
While hospitality has always had a high turnover rate, the sobering reality is that it's only gotten harder to retain workers. Current challenges:
The turnover rate shot up to over 130% in 2020 and roughly 86% in 2021 – by comparison, it was an average of 75% from 2017-2019 (1).
The median cost to hire a non-executive employee is around $1,600 while the average is over $4,600 (2).
It takes an average of 36 days to fill a position (2), which is an expense no matter whether an internal team or recruitment agency is handling the hiring process.
It also costs to train a new employee. Plus it will be a number of weeks before they are fully onboarded in their role. 
What is this telling us? Hospitality employers need to dig deeper when it comes to retention efforts. Beyond compensation, intangible perks like workplace culture are paramount. Nothing dashes morale faster than a threatening and hostile environment.
It's disheartening to know that sexual harassment is exceedingly common for hospitality workers. Almost 60% of hotel employees, disproportionately female, have been subjected to indecent guest behavior (3). There's no reason any staff should be anxious about sexual violence.
Panic buttons can be issued to your most vulnerable staff: housekeeping, restaurant and bar, and overnight. They can confidently work in isolation knowing that emergency help is just a push of a button away (read our post on how panic buttons work). A concerted focus on safety shows employees that they are working for the right company.
Safe employees are loyal employees.
3) ROI
Panic buttons are supported by a robust and cost-effective wireless network: WIFI, cellular, Bluetooth, or LoRa. Any of these are capable of communicating with a wide variety of sensors. Additional devices, such as leak detection and power consumption controls, drive operational costs down.
Simply put, remote monitoring is a money maker for hotels. You can't have eyes everywhere – that's why IoT sensors are so valuable. They are at the ready to send real-time alerts for pressing needs. Staying ahead of those issues is a major cost-saving strategy.
Panic buttons are a stepping stone to expand your smart hotel initiatives.
It's time to embrace panic buttons as a value driver. These wireless devices protect workers, which is a positive signal to potential hires and current employees alike. Their IoT infrastructure will also help you unlock additional ways to manage operational expenses. For a device that's smaller than 3 inches, I'd say that's pretty impressive.
Dennis is a 35-year telecommunication veteran and serial entrepreneur. He co-founded Ready Wireless in 2008 and started with prepaid wireless mobile and wholesale wireless technologies. He then helped transition to a full suite of IoT offerings. Ready's signature solutions provide fleet management, asset tracking, and sensor monitoring.
References
Bureau of Labor Statistics: Annual total separations rates by industry and region, not seasonally adjusted